God is doing a new thing…
He is using the children and youth of the nations!
Join with us!
God is doing a new thing…
He is using the children and youth of the nations!
Join with us!
God is doing a new thing…
He is using the children and youth of the nations!
Join with us!
Last Quarter Evangelism
Last Quarter Evangelism (LQE) is a student-designed and student-led outreach across the African continent impacting millions with the gospel.
"2020 has been the best year of my life because I have discovered how beautiful it is to be a child of God…
When we started LQE, I was excited to get involved and looked forward to participating in the outreaches. I didn't know what compelled me to take part, but when I realized that those who did not give their lives to Jesus would be destined to hell, I wanted to be part of LQE and rescue as many as possible. I can tell you that I did not miss any general outreach days of LQE. Moreover, I found a great joy in sharing the gospel with my classmates and sharing the gospel is now become part of my life whether the church plans an outreach or not. I had the opportunity to pray for adults and many people much older than myself. They were surprised to see my commitment and the way I shared the gospel with others. LQE helped me to experience God in a new way in my life."
Israel – 12-year-old boy
Our vision is to see LQEs all over the world!
Every child, everywhere on mission and growing in a lifestyle of prayer and evangelism.
Numbers from Last Quarter Evangelism
Oct 1 to Dec 31, 2020
14,489
Churches from 36 nations
264,771
People mobilized 90% children/youth
5,808,380
Gospel shares happened
301,907
People prayed to receive Christ
Out of "faith filled" prayers from May 2020, a vision was birthed in August to focus prayer and evangelism during the Last Quarter of the year, from Oct 1 to Dec 31. The children and youth were challenged in a contest to develop their own outreach tracks. Well over 100 were submitted and about 20 were chosen to be used and printed. The Prayer Covenant worked hard to help fund the printing but a lot of it also happened through the churches. Digital resources were also engaged to share the gospel. The results speak for themselves.
Click on the photos to view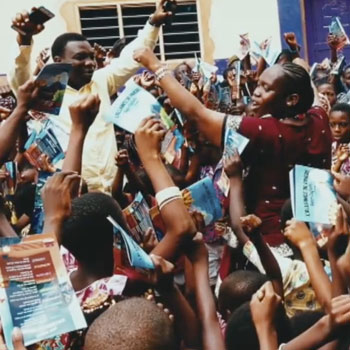 "The mission and evangelism program of LQE 2020 has been the most effective evangelism program we ever had. We have never implemented mission and evangelism programs with such a great magnitude."
The Mission & Evangelism Chairman of the Nigeria Baptist Convention Youth Conference
Resource Your Outreach Launch
We have free resources available including The Lost Sheep Engagers (if you are living in the USA) that equip children to effectively share their faith as well as Prayer Covenant gospel cards you can download freely.
The Children's Salvation Card
The Covenant Prayer for Children is included on side one and a gospel presentation on side two.
It is easy to use and simple to share with others.
Full Color | 4×6 | Card Stock
The Lost Sheep engager Tract
A great way to share how much Jesus loves you with your friends. We are grateful to Every Home for Christ in helping us create The Lost Sheep Engager adapted from The Prayer Covenant for Children.
It is easy to use and simple to share with others.
Full Color
8.5×14
1/4 Page Folded
the Children's Prayer Card
Full Color
4×6 | Card Stock
the Go 2021 Kids's Prayer Bookmark
Full Color
2.5×8 | Card Stock
OR like LQE children, you can create your own gospel flyers!
How to launch Your Outreach
1. Pray for vision and awakening.
2. Invite students to help design and lead an outreach in your community. (This can be incorporated into your own programs; VBS outreaches; a special one day outreach in your community or an LQE—however God leads).
3. Provide training and resources or have your students create their own resources. The Prayer Covenant can help you with strategic Prayer Resources for Children.
4. Set a time-frame. 1 day? 1 week? 1 month? LQE?
5. Get churches involved.
6. launch your outreach.
7. Be amazed at what God does in and through your children and youth.
The Prayer Covenant and the Go 2020 Decade Movement Family are here to encourage you on and help you get started.